LYNQ's Partner, Cedar Bay to Present at the Virtual ERP HEADtoHEAD Webinar
Are you in the market for an ERP? Maybe you're upgrading or replacing your current system?
Then the virtual ERP HEADtoHEAD webinar is a must! Taking place on 8th – 10th March, come and see the Acumatica solution in action. Cedar Bay will be hosting a Production session and a Finance session, to show you how Acumatica can truly streamline your manufacturing processes.
Acumatica Production Session: Tuesday 8th March | 15:45 – 16:45 GMT Register
Acumatica Finance Demonstration: Wednesday 9th March | 10:45 – 11:45 GMT Register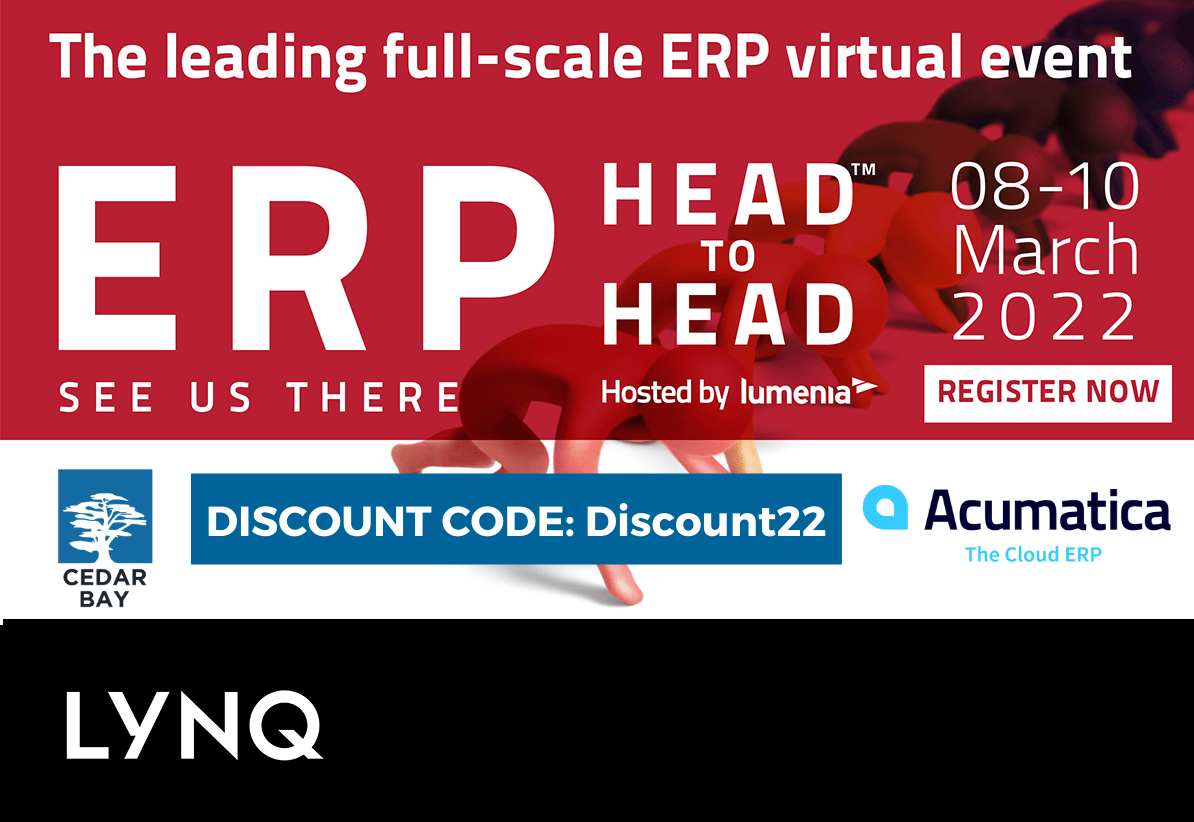 Acumatica Cloud ERP from Cedar Bay allows companies to work smarter, not harder. Cedar Bay provide the ultimate business management platform to help businesses thrive in the digital world. Fragmented systems, lack of real-time data and manual procedures all slow a business down. Costly per seat pricing plans for applications reduce your ability to adapt and grow. Acumatica provides you with an adaptable business management solution that supports work-from anywhere scenarios, allowing for flexibility, efficiency, and business continuity.
Through partnering with Cedar Bay, businesses feel confident that they can make the most out of the solution and ensure best practice procedures are met on time and within budget.
LYNQ MES extends Cedar Bay's portfolio of solutions to provide comprehensive manufacturing functionality to digitalise and drive factory performance. LYNQ's MES (Manufacturing Execution System) integrates with Acumatica to provide visual planning and scheduling as well as comprehensive manual and automatic data collection and analysis from employees and machines to enable manufacturing companies to maximise efficiency, productivity, and profitability. Read more about Cedar Bay and LYNQ's partnership
About the sessions
Each demonstration will run live online through a dedicated event platform, accessible on any desktop, mobile or laptop device, which you will have full access to for 4 weeks post-event. You will also have the facility to be very interactive with Q&A, activity feed, polling, gaming, prizes to be won and networking.
Go on over to purchase tickets and guess what? Cedar Bay has even got a 20% off discount code for you, use 'Discount2022' to save.