LYNQ is part of the Microsoft ISV Success Programme
A wide range of manufacturing customers and support partners who are actively seeking manufacturing and industrial solutions will soon be able to find us in the Microsoft Marketplace!
LYNQ is excited to announce that we have met all the requirements and have become a member of the Microsoft ISV (Independent Software Vendor) Success Programme, and by being so, we can build and advance our MES software solution and leverage Microsoft technologies, such as Azure cloud services.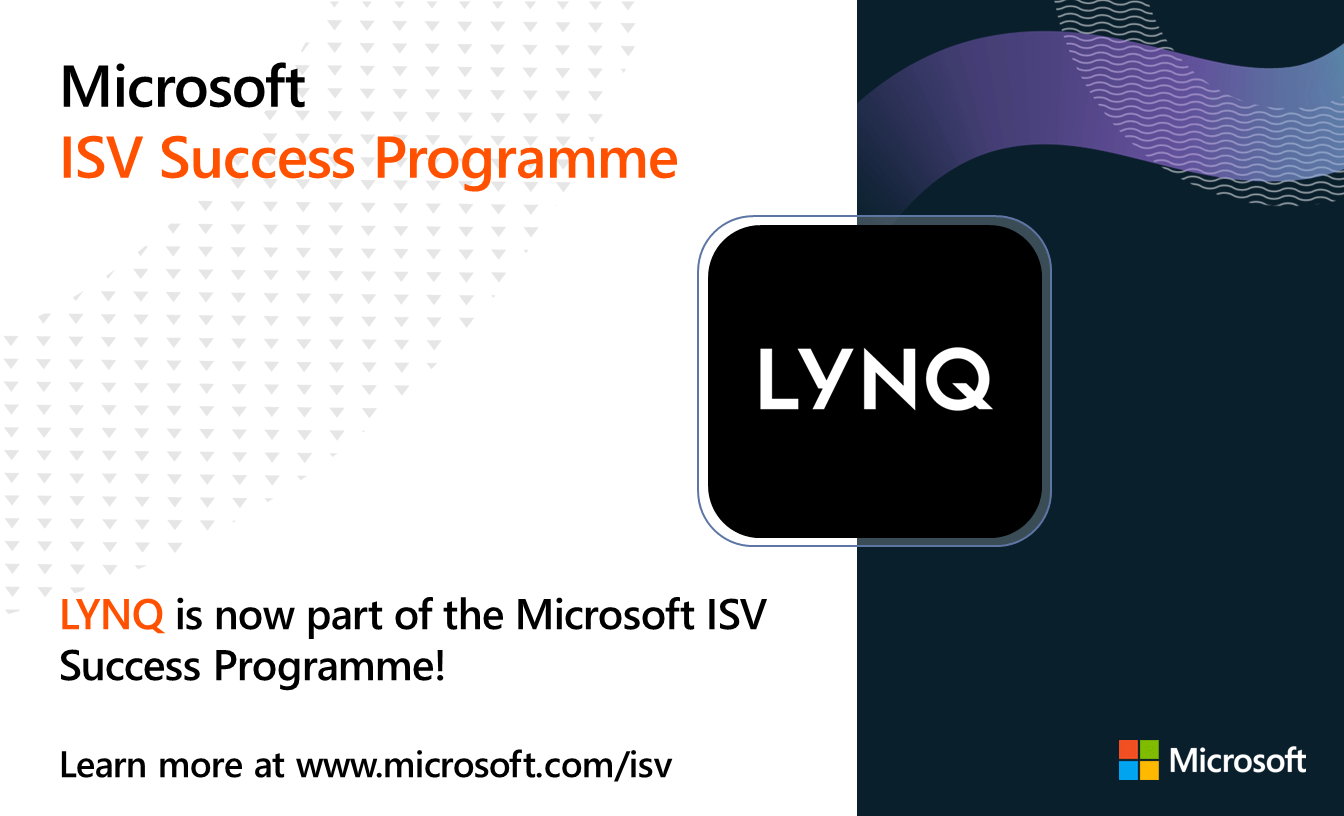 With the ISV Success Programme, ISVs such as LYNQ can build well-architected applications in Microsoft Azure (Microsoft's public cloud computing platform) faster and more efficiently. Computing, analytics, storage, and networking are all included in its broad range of cloud services. This will also allow LYNQ to continue to build a scalable, secure, and reliable MES solution.
The Microsoft ISV Success Programme offers technical sources and development tools to help us build, optimise, and integrate our solutions with Microsoft technologies. We have access to everything we need in order to leverage our use of Microsoft platforms and services.
There are several benefits that LYNQ can gain from Microsoft's ISV Success Programme:
Develop Solutions: The programme provides resources, tools, and support that will help us build and advance our software solutions. This includes access to:

Development tools,
Software development kits (SDKs), and
Technical documentation.

Integrate with Microsoft Technologies: The ISV Success Programme will assist LYNQ in integrating our solutions with Microsoft technologies. This includes integration with:

Azure services, such as Azure IoT (Internet of Things),
Azure Machine Learning, and
Azure Data Analytics
By leveraging these benefits, advanced capabilities such as real-time data analysis, predictive maintenance, and intelligent automation will be enabled.
Overall, the Microsoft ISV Success Programme empowers LYNQ by providing:
Technical enablement,
Integration opportunities,
Access to a partner ecosystem,
Marketplace visibility and more.
These benefits can significantly accelerate the growth and success of LYNQ in the Microsoft ecosystem.
"As an ISV Success Programme partner, we get access to a range of technologies and tools to assist us in integrating and building our solution offering.

As Microsoft's ISV Success Programme may evolve over time, we appreciate having access to Microsoft's official documentation and programme details in order to get the most up-to-date information, ensuring that our manufacturing execution system remains ahead of the curve and our customers receive the best manufacturing execution system available!"
Sarah Paradise-Brown – COO