How to Improve Planning and Delivery to Customers
Effective production challenges
As soon as an operation goes beyond a single machine and process, complexity multiplies.
Among the factors that present challenges in the way of effective production are:
multiple machines
multiple products
inventory control
visibility of machine availability
real understanding of costs of production
visibility of variables.
The ability to plan accurately enables a business to run more smoothly and helps to boost workforce productivity, by providing a predictable, clear and coherent work schedule. A spreadsheet-based plan is inaccurate the moment it is produced. Assumptions based on that data, from production scheduling to delivery time, cannot be guaranteed. Visible data, available in real time, is the means to achieve and maintain higher quality of production and increase output.
Solution to the challenges
LYNQ MES' advanced planning and scheduling functionality enables planners to make more informed decisions and access the information they need to perform their job role more effectively.
Using LYNQ MES enables better decision-making as it:
eliminates the risk of human error,
provides a single source and version of the truth (SVOT) and
digitalises manufacturing operations
Planning production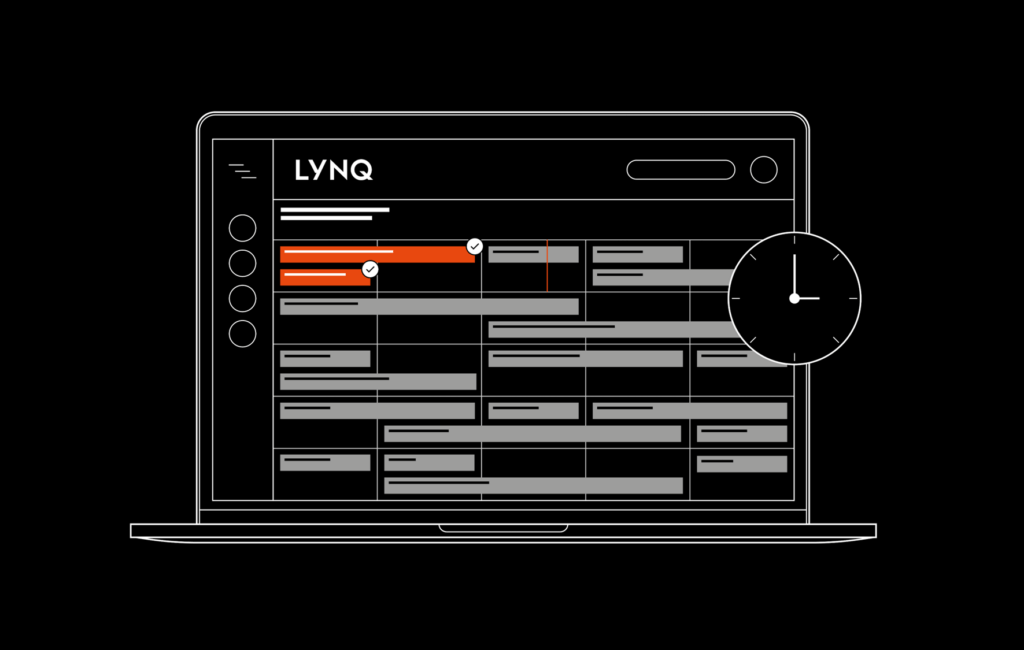 By providing planners with a far easier and more visual way of planning production they are able to see impacts of changes straight away and clearly identify any gaps in the schedule. Variations in performance are highlighted and any performance/ quality issues flagged, all of this facilitating smarter scheduling decisions. LYNQ MES provides visibility into production and confidence in the schedule. A planner can see the impact of a new order, with the schedule automatically adjusting according to that new order, enabling "what if" scenarios and decisions on whether it is worth moving other orders for that new one, or if the impact is too great on other customer orders in the schedule.
Through a clear schedule, LYNQ MES enables prioritisation of orders but does so in a structured way that informs the workforce and helps to eliminate no-notice firefighting, which can compromise productivity.
It enables informed analysis of the combined performance of machinery and staff, so that lists of jobs can be optimised, allocated to the most suitable machines and the available resources to be deployed in the most effective way. It also highlights performance issues, this could be machines or employees, showing when jobs have taken longer than expected or repeated occurrences of quality non-conformities, so these issues can be investigated and resolved (whether that's the need for more training or an improvement to a machine).
LYNQ MES is customisable; constraints can be bespoke to individual manufacturers' needs.
Traditionally manufacturers would display a schedule of workload on a large whiteboard, through LYNQ MES this is digitalised, often shown on a TV screen that reflects the plan the Production Planner has produced on their laptop or computer. This provides the same information to the shopfloor and management, in the same format and at the same time. No more delays in new information or confusion over someone manually adjusting a plan on a board. A tablet, such as an iPad, associated with each machine, shows the next job coming up providing an easy to use and understand interface for shop-floor employees.
The online production planner shows where each job is going, which machine has produced which job, and the full schedule for the day and for the working week. This is all traceable with business analytics provided over the top, so management can analyse if the work that week was completed as expected, why it may not have been and ways to improve in the future. All this data enables continuous improvement efforts and those small gains in productivity that make a huge difference to manufacturers' bottom lines.
LYNQ MES makes highly visible the core activities that are crucial to effective scheduling:
Operations definition, including rules for production
Operations capability, including resource management of machines, tools, labour and materials
Operations request – the transfer of production demand to equipment and personnel, through job lists
Operations response – execution management, data collection, tracking and performance analysis
LYNQ MES provides all the tools that are needed for effective resource management, in one easy to use solution for management and shop-floor workers. Shifts, working hours, the working week are all taken into account as the planning tool is based on a finite capacity schedule. Planning is made easier through drag-and-drop scheduling and the visual planning board makes plans, from rough cut to imminent, easy for the whole team to see and follow. Analytics balance equipment utilisation and order fulfilment to maximise output. The planner can clearly see the most and least utilised resources and identify top orders by value, as well as popular products by volume. One solution, all the features needed for effective resource planning to maximise output and minimise down time.
Bodypoint, based in Seattle, USA, designs and manufactures postural supports that improve safety, comfort, function and independence for wheelchair users. It had 22 machines when they began with LYNQ, which create these supports.
It began its adoption of LYNQ MES with a focus on improving data visibility and reliability. By being able to access all facets of scheduling and production information from one system, Bodypoint saved significant time as well as having easy access to the data needed to help support continuous improvement initiatives. They also found the solution to be operator friendly and easy to use so it was a smooth transition for the whole team and simple for the shop floor team to learn the new scheduling tools.
Visibility of planning and capacity was a huge benefit, which allows them to track each job electronically and have clear visibility of labour and machine capacity.
LYNQ MES includes a range of analytics for planners to be able to be more informed and so make better, more effective and efficient decisions, helping to boost profitability, cut wastage, deliver on time in full and thus ensure customer satisfaction.
In the next piece, we will look at the importance of data and how to make sense of it.